About Dr. Barker
Dr. Barker's early childhood was spent in Houston, Texas, where his dad worked at MD Anderson Cancer Center. "Some of my very first memories involve visits to see dad at the radiation office," he says. "I remember seeing patients with huge cancers, and markings on their faces or bodies for radiation therapy. Those scenes were really fascinating to a four-year-old."
After his family moved to Dallas, he would come home from school to hear his dad tell stories about cancer patients around the dinner table. So, it was no surprise when Dr. Barker chose to become a doctor and specialize in radiation oncology. "Oncology is genetic in my family," he jokes.
Dr. Barker's genetic connection to oncology runs deep in more ways than one. His paternal grandmother died from leukemia when he was an infant, his maternal grandmother was treated for colon cancer, he lost an uncle to melanoma, and his mom is a survivor of both breast cancer and colon cancer. "The entire cancer experience is really different when you are a patient or relative than when you are the doctor," he explains. "When I meet a patient who has just been diagnosed with cancer, I remember that even though I have seen this problem a thousand times, for that person it is the first and likely only time they will be diagnosed with cancer. It is a unique, humbling and frightening time in their life—and they deserve to be treated with special dignity."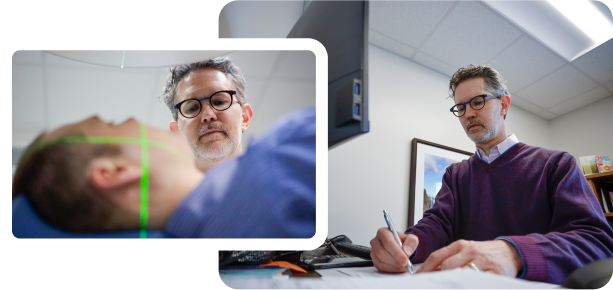 Dr. Barker believes his patients deserve the absolute best, highest-quality cancer treatment available. He also feels blessed to have trained at some of the world's most respected institutions during his medical education. He attended UT Southwestern Medical School, and then completed a residency in radiation oncology at the University of Iowa Hospitals and Clinics and the University of Washington Medical Center. Afterward, Dr. Barker was one of the very few radiation oncologists to also complete a year-long fellowship in radiation oncology at MD Anderson Cancer Center in Houston. He has remained continuously certified in radiation oncology by the American Board of Radiology since 2002.
"Having trained at several different leading cancer centers has taught me that there is more than one philosophy and more than one approach to treating most cancers," Dr. Barker notes. "This allows me to guide patients through their treatment options and help them choose the treatment that is truly the best for them."
 Dr. Barker understands that caring for patients with cancer requires much more than just technical expertise. Along with his pre-medical and biology classes at Abilene Christian University, he also earned a degree in Bible and religious studies. "The insights I learned from classes in counseling and ministry at ACU were invaluable, and I use those concepts every day as I help patients make decisions and provide support for those who face difficult diseases," he says.
Over time, the joy and sense of purpose he developed while caring for some of the sickest and most symptomatic patients in our community inspired him to earn a second board certification in hospice and palliative medicine in 2009. "Palliative medicine is simply helping alleviate symptoms when a patient has a disease that has no cure," says Dr. Barker. Although cancer cure rates are higher than they have ever been in history, there are still some patients who discover they have an incurable problem. Yet, even for those patients, we still have important work to do. Maximizing quality of life is a critical goal for all of our patients."
When he isn't caring for patients, Dr. Barker enjoys spending time with his wife and two children. Together, they enjoy traveling, particularly to the mountains for hiking and fly fishing. They also share a love for Tex-Mex cooking, and can often be spotted at local Mexican food restaurants across Fort Worth.